If you are looking for porcelain veneers in Smithtown NY, look no further. Reflect your inner radiance with a smile that shines. Dr. Parker uses porcelain veneers for a beautiful smile, designed to brighten up a anyone's day. Our service evaluates the strengths and weaknesses of your teeth and smile alignment, and then creates a custom dental plan to build your confident, healthy smile.
We believe in enhancing the smile you were born with by adjusting the size, shape, contours and colors of teeth, optimizing to them create a beaming, natural smile. In a consultative appointment, Dr. Parker evaluates your teeth for…
Function, to ensure your teeth and alignment are working properly
Quality, so you'll not only gain healthier teeth and gums now, but safeguard those assets for the future
Aesthetics, and then he creates for you restorations that are undetectable and smiles that radiate power, self esteem and confidence
The self-assurance that comes with a healthy, beautiful smile is remarkable. When you enhance your smile with porcelain veneers, you greet the world with confidence.
If you're ready to begin building a smile that exudes poise and polish, call us at (631) 724-0455 to arrange a porcelain veneers consultation with Dr. Parker. He will speak with you about the smile you envision and the dental recommendations that are right for you. I n a matter of weeks, you can have the smile you not only want, but deserve.
A key part of our Smile Design service uses both traditional and prepless veneers as a means to create that perfect smile you've always dreamt of. If you're interested in having a beautiful smile without the distraction and discomfort of wires or heavy drilling, give us a call today!
Related Cosmetic Dentistry Articles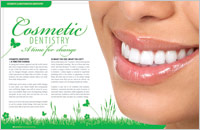 Cosmetic Dentistry – A Time For Change
Join us as we review the myriad of possibilities available to you for cosmetic dental change. But the biggest part is not just how your smile looks, it's how you feel when you show it… Read Article
The Impact of a Smile Makeover
Americans are catching on to the emotional and social importance of a healthy, beautiful smile, and they're seeking out ways to improve their smiles. Learn why and what a change could mean for you… Read Article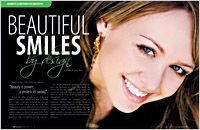 Beautiful Smiles by Design
The first in a series of articles dedicated to the "art and science" of designing a more appealing smile. One of the country's foremost leaders in cosmetic dentistry discusses how you and your dentist partner to create a great new look… Read Article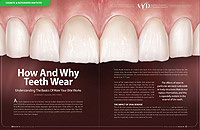 How And Why Teeth Wear
Are teeth supposed to last for a lifetime? And are humans designed to live for up to a hundred years? Given all the current improvements in the areas of medicine and health, both general and oral, people are not only living longer, but they are also keeping their teeth longer. This article will provide an overview of the "oral system" and one of its more common and important occurrences, tooth wear… Read Article
Schedule your appointment today!
"His work changed my life. I don't worry about my teeth falling out anymore and I am not in pain. Everyone I meet tell me that my smile is beautiful."