Transform your smile comfortably without the distraction of metal braces with Invisalign. Dr. Parker's cosmetic dentistry expertise, combined with the effectiveness and convenience of Invisalign, are a winning combination for those who have always dreamed of a gorgeous smile but would like to achieve it as smoothly and unobtrusively as possible. The service uses a clear polymer aligner that is custom fit to your teeth and mouth. The aligner, virtually undetectable to others, fits neatly over your teeth and moves them into place over the course of a few weeks. Aligners are removed for brushing, flossing and eating but otherwise remain in place, gradually pulling teeth into alignment. They are less painful than metal braces and less disruptive to patients' lifestyles, making them a gentler, easier alternative. For 70 years, Invisalign has been the preferred smile alignment choice for adults seeking an alternative to traditional metal braces. With state-of-the-art technology that tailors each aligner for your comfort and a thought-leading approach to the science of cosmetic dentistry, Invisalign is the recommended choice for creating a winning smile. You can have a sparkling smile without the discomfort of wires and brackets, in a shorter time than is usually required by traditional braces. A consultation with Dr. Parker, who has used Invisalign to build beautiful smiles for 10 years, is the first step in deciding whether Invisalign is right for you. Call us to schedule an appointment: (631) 724-0455. Invisalign is just one tool we use at David E. Parker DDS to create beaming, healthy smiles. Check out our Smile Design services to learn how we can improve your smile.
Related Clear Orthodontic Aligner Articles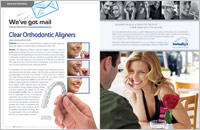 Clear Orthodontic Aligners The orthodontic treatment using clear aligners consists of a series of aligners that you change about every two weeks over a course of treatment lasting six to eighteen months depending on how much movement is needed… Read Article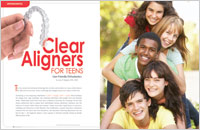 Clear Aligners for Teenagers Teens who regard traditional braces as restrictive, confining, and obstructive to their lifestyles now have another choice for orthodontic treatment: clear aligners. This advanced dental technology, originally geared toward adults, has recently evolved to treat a greater variety of bite problems in younger people. These improved orthodontic appliances can help teens function normally during a difficult phase of life… Read Article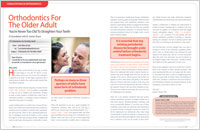 Orthodontics for the Older Adult Healthy teeth can be moved at any age, so there's no such thing as "too old" for braces. In fact, nowadays about one out of every five orthodontic patients is an adult. Yet this figure represents only a small portion of adults who could actually benefit from orthodontic treatment… Read Article
Schedule your appointment today!
"I look and feel 10 years younger."